Today, telecom service providers are operating in a dynamic and highly competitive business environment. By 2025, the global telecommunication services market is expected to amass $1.4 bln, showing steady growth at a CAGR of 6.6% during the forecasted period. In no small part, this growth is driven by the increasing demand — corporate clients are looking to leverage telecom capabilities to expand businesses while individual customers are seeking new services that deliver new experiences.
The intensified competition makes industry players revisit their capabilities as they need to offer more value to reduce customer churn and raise revenues. To achieve these ambitious goals, telcos invest in technology, namely, in enterprise-grade systems like ERPs and CRMs.
Acronym for Enterprise Resource Planning, ERP software is essentially a business process management software that helps companies streamline day-to-day activities — from procurement to inventory management to accounting. CRM stands for Customer Relationship Management and CRM solutions enable telecom operators to get a 360-degree view of their customers and better cater to their needs.
As it is clear from the definitions, both CRMs and ERPs are vital for telecom operators that want to run their businesses in the most effective way. But however advantageous these systems are, their implementation can come with certain challenges. Almost a decade of research by Gartner, Forrester and other firms reveals that up to 70% of all CRM projects fail.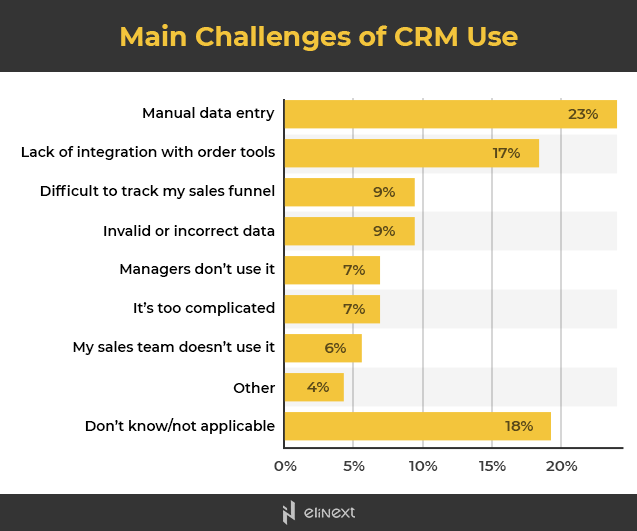 Source: Whatfix
Indeed, implementing CRM and ERP systems is no easy endeavor for telecom enterprises. We have prepared a list of the most common challenges and, most importantly, how to address them, to help telcos come out on the other side of their software implementation projects.
One size does not fit all
A general problem with off-the-shelf software is that it offers a one-size-fits-all approach. However, the business processes of a car and auto parts manufacturer differ from those of a telecom operator. And the solutions need to reflect that.
In addition to traditional features like billing and revenue management, inventory control, and others, business processes solutions for telecoms also need to address the specific needs of that domain.
Real-time network inventory management, network planning, and design, configuration management, field service management, and more — the more tailored a solution is, the better telecoms are at aligning their resources to business opportunities and growing revenue.
How to get it right: When choosing a ready-made solution, make sure your software vendor has the experience working in the telecommunications domain and accommodating unique telecoms' needs. However, building a custom ERP or CRM solution from scratch will undoubtedly give you maximum control so you can have the features and functionality your telecom business needs.
Poor usability
Poor usability is something that often plagues modern-day solutions. Usability issues can stem from cluttered user interfaces, non-intuitive navigation, overly complex workflows, or slow performance. For instance, CRMs are often crammed with too many features, while ERPs are notoriously cumbersome and difficult to use.
But in the age of high customer expectations, great UX is one of the top predictors of successful system implementation. In a recent survey, 88% of industrial users admitted they would rather use Microsoft Excel instead of a poorly designed ERP solution.
How to get it right: Since usability translates directly into user adoption, a meticulous usability audit should be included in your ERP/CRM selection process. Make sure the solution you choose is not overly complicated so that your employees would not have to look for workarounds or waste time on inefficient processes.
Lack of technology integration
All your enterprise systems must play nice with each other so that your telecom business can run like a well-oiled machine. Perhaps, one of the most well-known — and one of the most costly — CRM failures is the case with Vodafone when the global telecom company tried to integrate and consolidate its CRM systems in a single Siebel platform. During the data migration phase, some accounts were migrated incorrectly, which ultimately resulted in a £4.6 million fine.
It's no surprise that lack of integration comes high on the list of the main challenges to CRM and ERP adoption, as shown in the graphic below.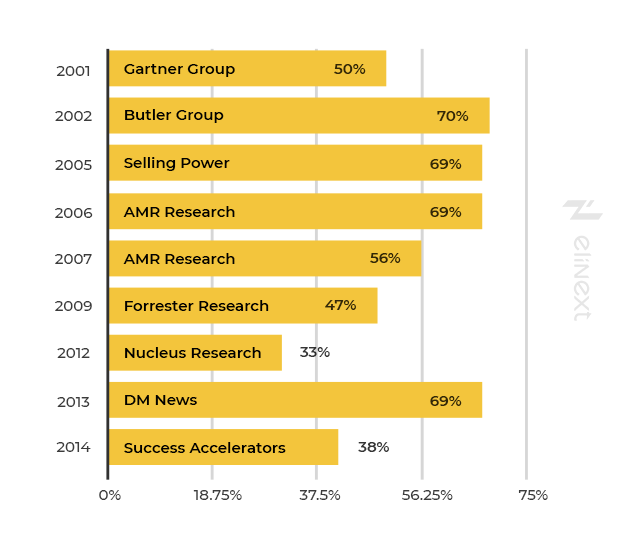 Source: Commbox
How to get it right: It's critically important to plan your integration needs ahead, prepare a coherent integration strategy, and communicate it to your software vendor. Allocate resources for comprehensive integration testing to make sure all data has been properly integrated and the consolidated enterprise systems are functioning as intended.
Data entry challenges
Both ERPs and CRMs require vast amounts of data to track your business processes and present you with a holistic view of your customers. This data, which often needs to be collected outside a telecom company, must be entered into the systems in a timely and accurate manner.
However, the process of data entry is often manual, time-consuming, and prone to errors. But a tiny mistake at the data entry stage can have a snowballing effect, causing data quality issues and leading to financial losses.
How to get it right: Make sure that your ERP and CRM of choice support integrations with emails, calendar, SMS, web forms, social media, and other data sources to reduce manual entry and improve data quality. Advanced CRM systems today come with a speech-to-text functionality, allowing end-users to easily input data via voice.
Hidden costs
And last but not least, ERPs and CRMs can have transparent pricing but there can still be certain hidden costs that, if not included in the budget, can hurt the bottom line and undermine the success of an entire project.
Employee training and onboarding, updates and customizations, ongoing maintenance and support — the total cost consists of many components. Here's a general idea of what hidden costs may look like: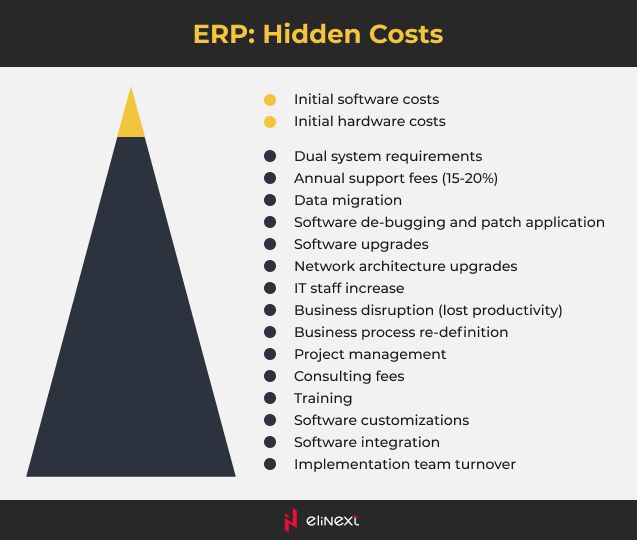 Source: Concepts in Enterprise Resource Planning. Third Edition
How to get things right: While the upfront price is an important factor in choosing a CRM or ERP, be sure to factor in all hidden costs and base your decision on the total cost of ownership (TCO). For instance, different vendors can offer different licensing terms (fixed fees, per-user pricing, etc.). If your telecom business is rapidly growing, then paying per user might not be the best option in the long run.
The bottom line
CRM and ERP solutions are incredibly beneficial for telecom operators as they help connect processes, data, and departments into a cohesive ecosystem and run a more successful business.
However, not all solutions are created equal, i.e. some provide poor user experiences, limited integration capabilities, or no support for telecom-specific processes at all. To avoid a CRM or ERP disaster, make sure you base your decision on thorough market research and consider such factors as ease-of-use, customization and integration support, legacy data migration, and hidden costs.
Whether you need an industry-specific ERP system or a powerful CRM solution to drive your telecom business forward, Elinext can help. We build innovative, enterprise-grade solutions from scratch, customize your ERP or CRM software to your unique demands, and help with integration so that you can focus on reaching your business goals. Read our latest Fallstudien to learn more.