Addressing modern recruiting process, the first word that comes to mind to describe it – challenging. It's time-consuming. Complex. Recently it is also rapidly changing.
The switch is made completely towards digital as it is hard to imagine manual processing of all the resumes, sorting and ranking the CVs, organization of onboarding and many other HR-related processes.
We've decided to explore the market of recruiting software startups, get to know the leading solutions' features and try to figure out how a perfect recruiting tool would look like.
Certainly, the perfection is unreachable, and if it would have existed, why would we as an outsource software development company that designs custom solutions bother to give such a product free advertisement?
The thing is we explore the market thoroughly and follow all the latest trends and best practices for the execution of our projects. We'd like to know if your company would benefit from integrating a recruitment software, or, perhaps, would bring a new idea to the market for B2B distribution.
Let's have a look at the market sizes first, though.
Current State of Recruitment Software Market
If you are not a fan of numbers, just skip this part, as it can be summarized by one word: massive.
According to grandviewresearch.com, the global HR management market size was valued at $14.68 billion in 2018, with recruiting software taking a fair share of it (have a look at the graph below).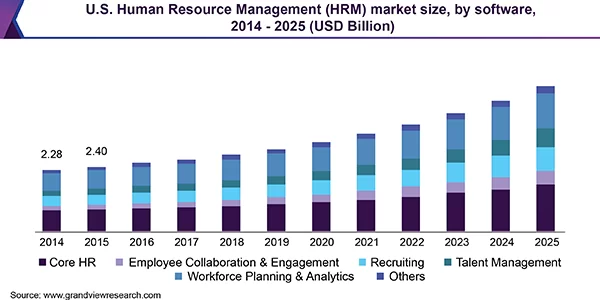 Source: grandviewresearch.com
Crunchbase estimates Venture Capital money invested in recruiting software startups at over $600 million.
Josh Bersin, who analyses the industry for more than a decade and founded Bersin by Deloitte, tracked over 400 HR technology companies in 2014, and by 2019 this number had grown to 1400.
There are hundreds of recruitment software companies out there, and they can be categorized into several types. More on that in the following section.
Types of Recruitment Software and Their Core Features
Types of the Software that are used by Recruitment Software:
Job Aggregators
Testing and Assessment Tools
Applicant Tracking Systems
Recruitment CRM (candidate relationship management) systems
Video Interviewing Software
Human Capital Management Software
Sure enough, this list is not by any means a complete set of tools modern recruiters use in their everyday work and is not an official ranking of the software.
However, analysis of the leaders of the industry in the category allows making some conclusion about the current recruitment ecosystem. Who knows, maybe you'll have an idea about the open niche at the or would notice a fatal flaw in the existing solution.
If you have such a vision of the market, please do not hesitate to contact us for a free quote for the realisation of your project.
Now, to the exploring of the current recruitment software leaders.
Job Aggregators
Let's be honest, job boards aka job aggregators are the first place you turn to while searching for a new place to hire/be hired. These platforms are the centre of the recruiting ecosystem. Direct applicants to Indeed, CareerBuilder, or Google For Jobs make whopping 48% of all the hires worldwide.
Indeed is the current leader as the database of the aggregator contains 100 million resumes. 72% of interviews and 65% of all hires in the United States were due to the platform. It is very easy to use (and to build, or so it seems), has a minimalistic design and strong competitors in face of CareerBuilder (a private company acquisition in 2019) and Google.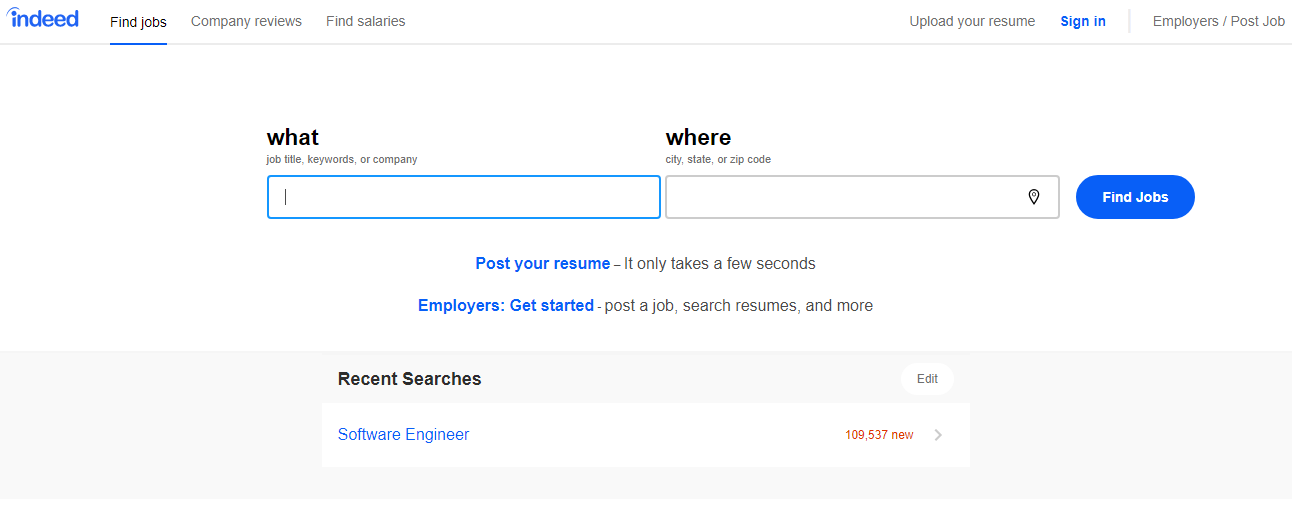 Source: indeed.com
Google For Jobs is a direct competitor to Indeed is all about inserting the new features, and we all know that Google has no lack of data for their analysis. Each year their widen the set of functions available for the applicants, among the most recent are location filters and accessing salary information.
As for now, the market belongs to Indeed but it remains to be seen which aggregator will people be using in five years, or, let's say a decade. perhaps, there will be a new player in the market.
The niche seems to be quite difficult to overtake.
Testing and Candidates Assessment Tools
The aforementioned job aggregator CareerBuilder made a research on how many employers commit mistakes while hiring people. 74% of employers admitted they've hired the wrong person for a position, and on average, such a mistake costs $14,900. That is why 57% of companies use pre-employment tests to get acquainted with applicants skills and abilities for the job.
When it comes to creating such tests, there is a firm leader, at least for the IT industry – and its name is HackerRank. The company creates tech and coding tests to assess the skills of software engineers to hire.
Applicants are able to practice before the real interview (there is a built-in tool that allows conducting an online interview – a direct threat to those video interview software pieces we'll talk later) and get their hire.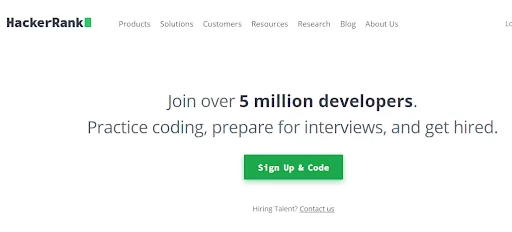 Source: hackerrank.com
Nowadays, there are also plenty of those who are trying to create unbiased algorithms for applicants assessment. The most commonly mentioned feature is a science-based approach to those estimations and assessments of the market.
Take a look around to find the company that uses massive data streams and is known for having and utilizing the big amounts of data and are having great analytics tools
Self Management Group claims to have over 35 years of data, for instance.
Applicant Tracking Systems
90% of large companies are using an applicant tracking system (ATS). Therefore, it is the largest category of recruiting software. There is a huge market, and many enterprises are migrating to find the best solution for it.
Ongig mentions the following most common ATS systems that employers migrate to Taleo (by Oracle), Greenhouse Software, Workday, and iCIMS.
Workable is the only ATS with built-in candidate sourcing.
Their claim is the following:
"Our tools scan millions of online profiles and multiple data sources to find candidates who match the skills and location of your job."
Taleo, Oracle acquirement since 2012, is the leading recruiting software in the ATS category.
Workday is the leading vendor in Gartner's 2018 Magic Quadrant for Cloud HCM Suites Mid-market and Large Enterprises. It was also one of the fastest-growing ATSs in 2018.
As for the list of the features a relevant ATS should contain, our research and innovation department made the following table containing all of them: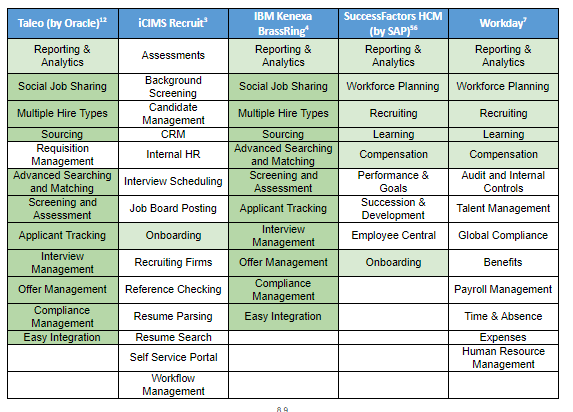 If you are a representative of an enterprise that is looking for a ready solution, you may choose these options. You can also try to build your own custom software for applicant tracking.
If you are a representative of a startup, you might get your mind on entering this stiff market, as the customer satisfaction rate is the lowest here if we speak of this recruitment software. that's why the migrating level is that high.
Candidate Relationship Management Systems
Recruitment marketing is a growing niche, therefore candidate relationship management (CRM) software attracts more and more candidates.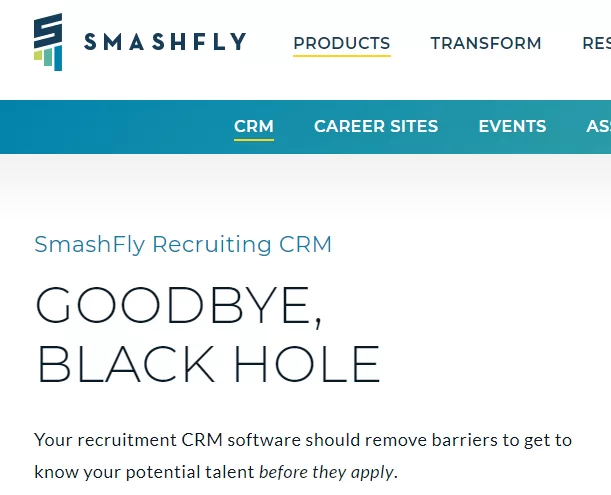 Source: smashfly.com
SmashFly is known for its content marketing. Talemetry is a recruitment marketing platform.
Avature, the foundation of Dimitri Boylan, former CEO of HotJobs.com, is a highly flexible enterprise SaaS platform for Global Talent Acquisition which attracted 110 of Fortune500 organizations.
In fact, there are so many propositions in this sector it is hard not to get confused. It is also the sector that craves for custom solutions.

Video Interviewing Software
Video interviewing software is extremely useful as helps to save time (and therefore, money) and no wonder it is a growing market.
HireVue is the example of the recognition in the sector with almost a hundred ($93) million in funding. They use organizational psychology in its pre-hire assessments and interview analyses.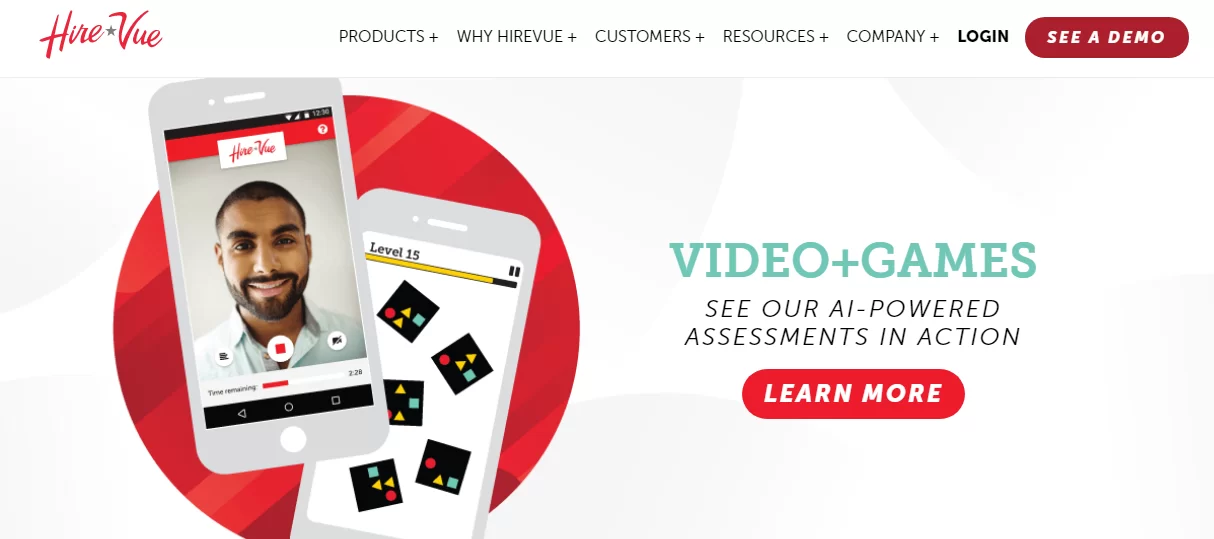 Source: hirevue.com
Among the other video interviewing software with multiple thousands of customers are such companies as Spark Hire and Wepow.
The industry standard is branding, multiple languages, 24/7 customer support, and mobile-friendliness so you can book the interview just having a cell at your disposal.
Human Capital Management Software
BambooHR is the leader among self-service portals for new employees. the other offerings of the company include an ATS, payroll, and performance management.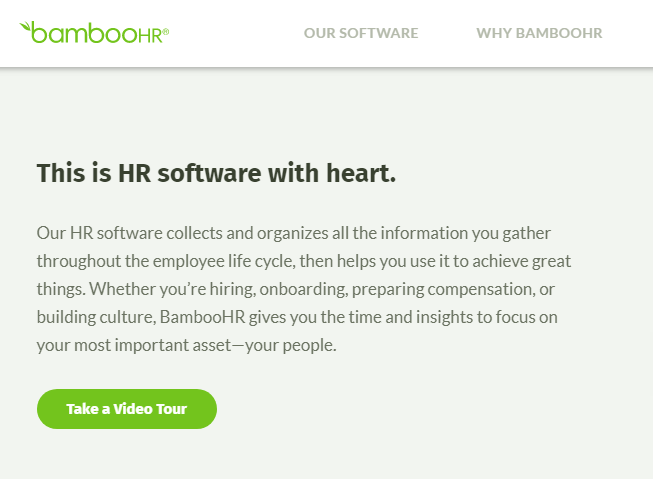 Source: bamboohr.com
Certainly, they are not the only platform in the sector, but they often get the mentioned when they speak of HCM software.
The platform is helpful for hiring, onboarding, compensation payouts and even creating the corporate culture on your way to the organizational growth.
Conclusion
Overlooking recruitment software is an unobvious way to make the bottom line of your company drop significantly. You could be saving tons (and we mean it – tons) of money by optimizing recruitment (and other HR) processes within your company.
We had a look at the leaders of the different categories of recruitments software and tried to figure out why are they successfully holding their share of the market.
While you could use this blog post as a listing for selecting a solution you feel your company needs, we should mention that the custom software tailored specifically for the needs of your recruitment department is always the superior option. Provide, it is designed by true professionals. The choice is yours' though.