The previous article in these series addressed VR technologies, chatbots, and gamification in B2C sales. We continue dealing with the topic, and in this article, we'll offer you several more digital trends to consider. The bath ducky remains to be our go-to example, of course.
Content is Everything, and Everything is Content
In our data-overloaded world, content is the king, the queen, and the whole crowned family. Not because of keywords, search optimization, and Google rankings (sure, they matter too) but because of engagement.
Valuable content can not only make your product stand out in the line of similar products and engage your potential client to press the buy now button, but it also helps create trust, loyalty, interest, and form a long-term relationship with your brand and products.
Here some of the 2020 statistics on the B2C content strategy of marketers:

How to make valuable content?
Before creating
Look at it from the customer's point of view and try not to sell but to help. Do you remember the Christmas movie Miracle on 34th Street (the original one of course) where Santa Claus in a shopping center advised visitors where to find better presents for a lower price even if they were in competitors' shops? The sales of this shopping center boomed because people went there to get honest advice.  They became loyal customers and began to spread the word.
Despite this example being a bit idealistic (as the Santa Claus was real in the movie), the core idea is this: Be useful, be helpful, sell not only the product but the service. Helpful content (like bath duckies reusage ideas) is the easiest way to deliver the extra services to your client without leaving your comfortable home office.
When creating
In your content, address the specific troubles of your client, provide applicable advice, and not just use the captain obvious-recommendations.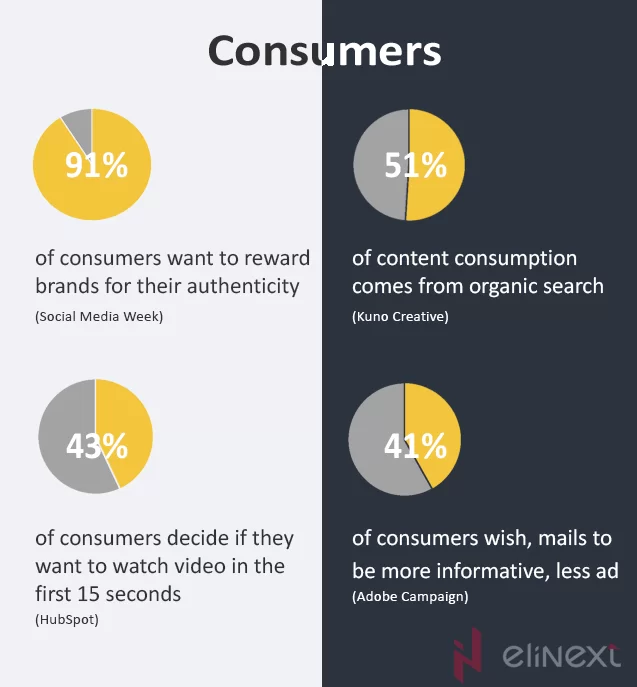 Secondly, use various forms of content: FAQs, webinars, guides, video tutorials, Fallstudien, infographics, blog posts, podcasts, etc. The common trend – videos ― are more engaging than texts. Long-reads are shared more often than medium-volume texts (under 3,000 words).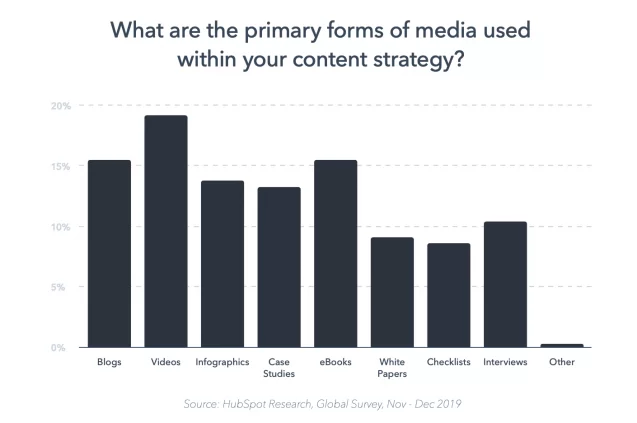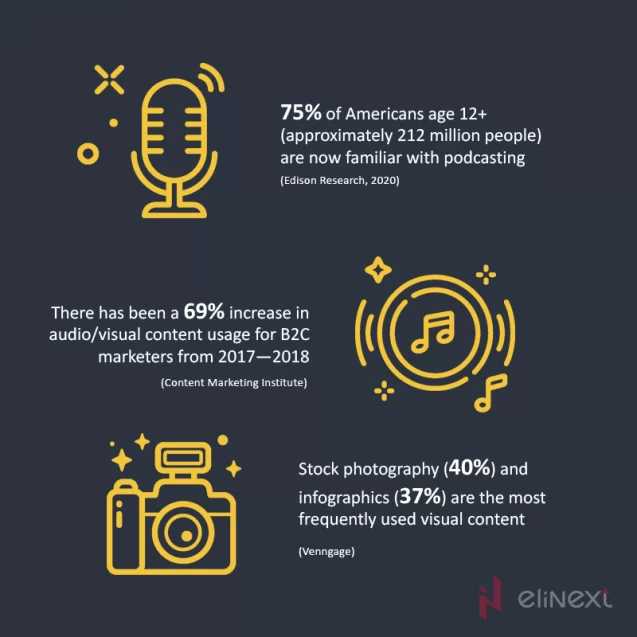 Thirdly, if you spend time and money on creating, make use of all the channels you have: company website, app, social media, market places, email newsletters, etc.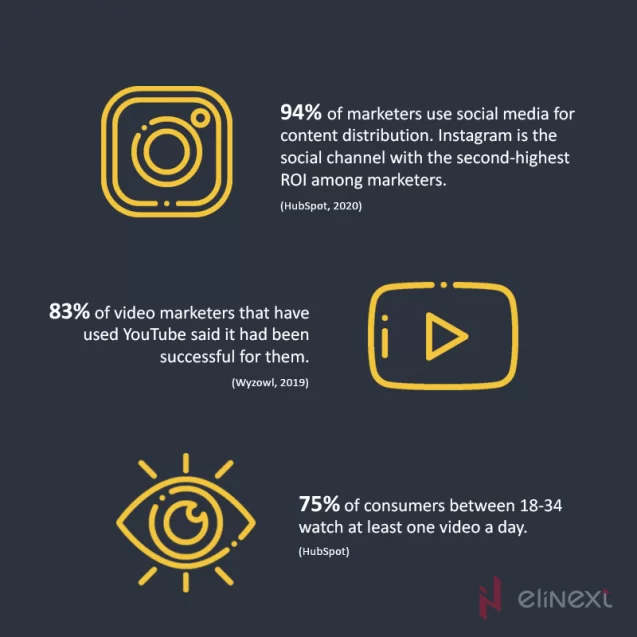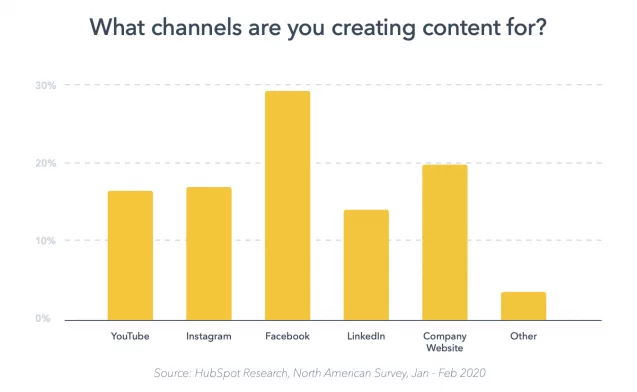 After Posting
The three first steps are ready. Now, how to estimate content efficiency? The quantity and quality of leads is the most obvious answer. To understand the efficiency, you have to estimate your content budget and calculate sales generated thanks to these investments.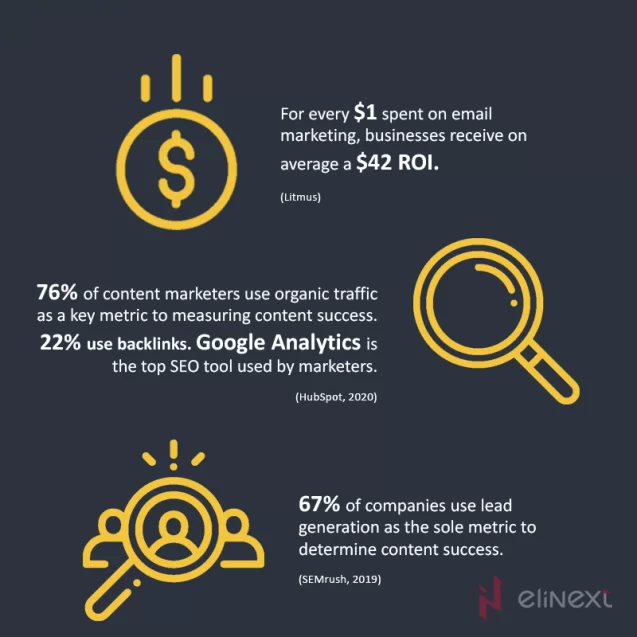 A tricky moment here – content is not about sales and leads only. As mentioned, it's about trust, loyalty, returning customers, and PR. So, potentially, the well-developed content strategy affects your sales in the long term.
Content is Not Easy
Brainstorm, content plan creation, work coordination with writers and designers, burning deadlines, SMM specialists and web specialist management, on-time posting, analysis.
Looks like a bunch of work, doesn't it?
Here are some proofs that content is challenging not for your company only: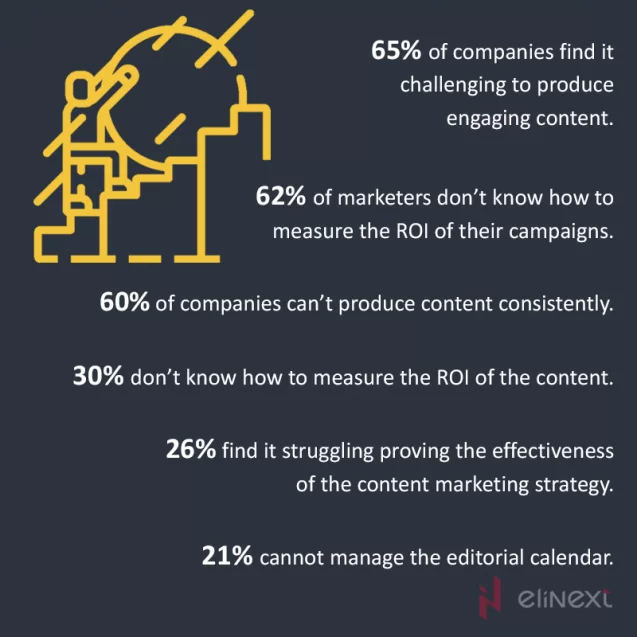 The good news is that content management automation is the next digital trend in 2021 you should be interested in. You can ease the search for ideas by automated analysis of your competitor's content and using social listening. If you're tired of posting the same stuff on all social media networks, blogs, and site-portals, you can order custom software as well. Automated analysis and reporting on content efficiency are one next option that saves precious time.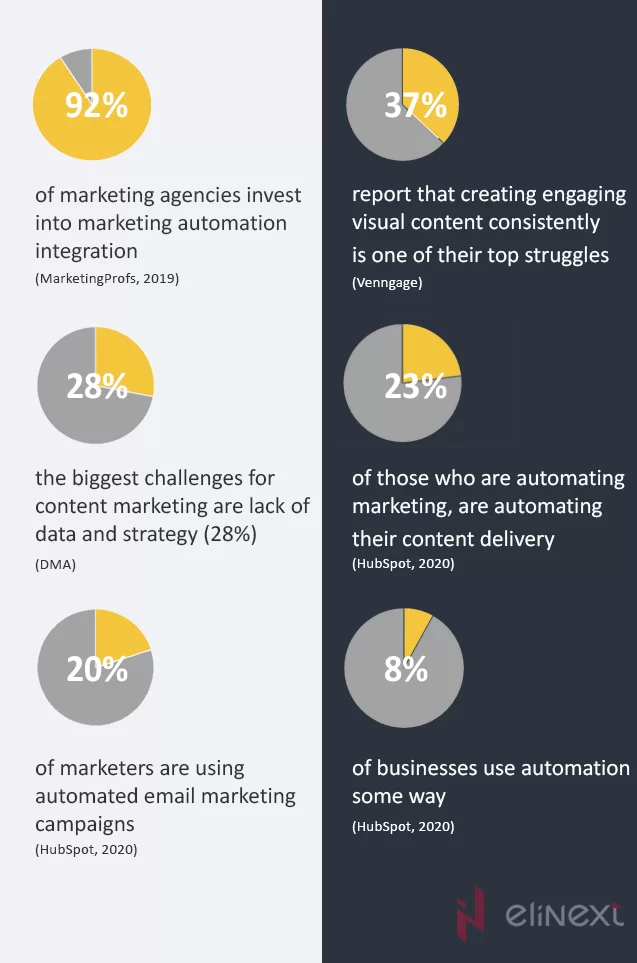 Considering the speed AI Content writer tools are evolving at, not far away are times when the content will be data-driven and fully automated from idea scratching to posting and sharing.
Hyper-Personalized Digital Marketing – Everyone Wants to be Special
Account-based marketing in B2B vs. personalized marketing in B2C sales. Even if the target audiences, and some tools differ, the key idea remains: create the environment for your client where she or he feels personally served even if it's an online shop with thousands of users. What for? Increased sales, loyal customers, tie-in sales and some more reasons on the infographics below: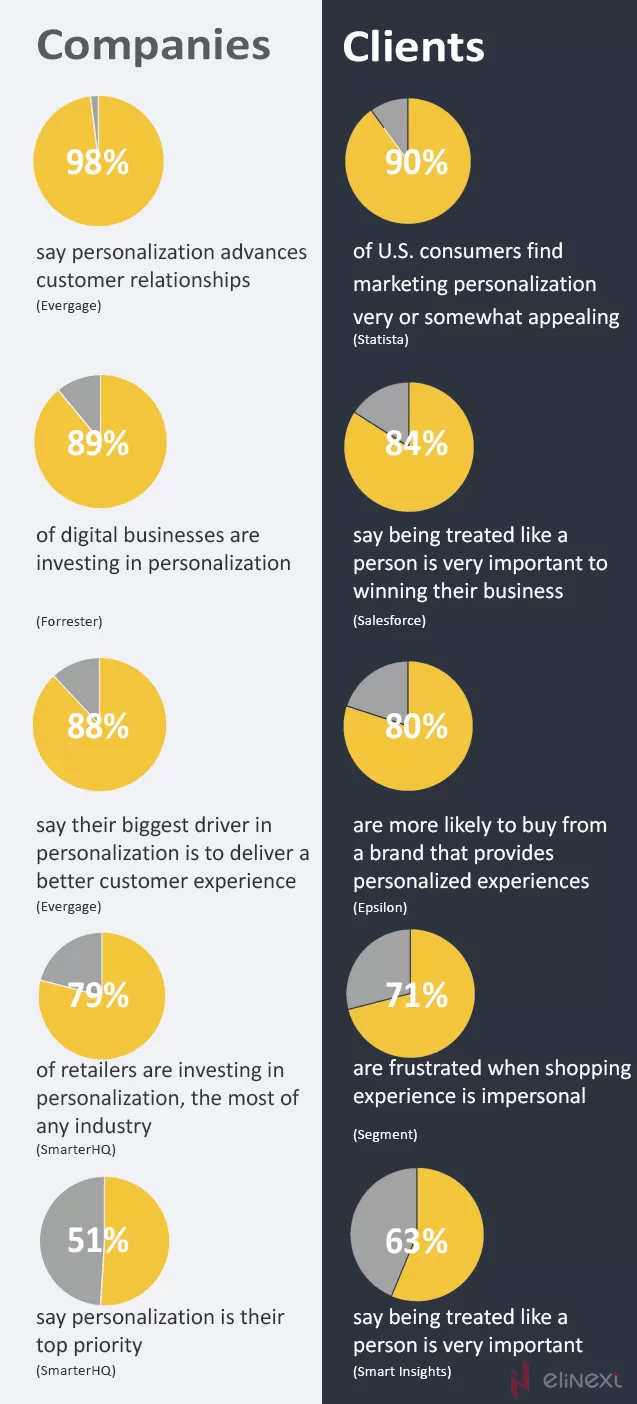 In the last months, a new term is often heard – hyper-personalization. As you may suggest, it's a strategy that sets personalization on an ultimate hyper-level. How?
Analytics, AI, and automation. These three A-whales of personalized marketing allow you to simultaneously manage numerous marketing tasks, email, and ad campaigns with a strong focus on the customer need and preferences. The difference is in the data amount and approach. Now, all the clients can be divided into smaller target groups, and each can be addressed separately. Compared to previous strategies where personalization tools were applied to previously defined target groups only, hyper-personalization pays its heed to all the customers.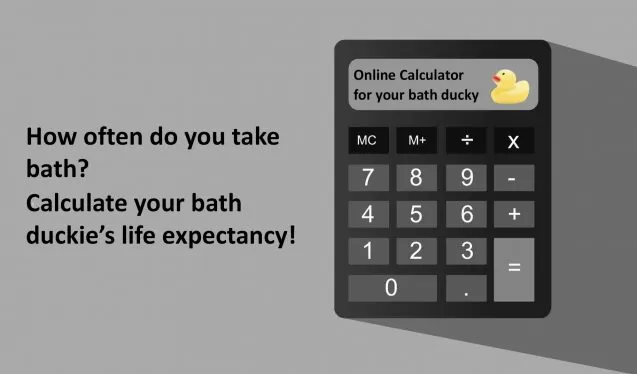 Let's have a look at some basic and trendy personalization digital tools 2021:
Personalized content
For the new visitors, some location- or time-based content can be created, like welcome pop-ups, recommendations on the closest store nearby, and other dynamic content. (For example, welcoming pop-up on duckies' webstore page 'In your surroundings there are 542 bath duckies' fans, join our community and get connected.)
As soon as the customer has spent some time on your page, you know a bit more about his or her wishes and logic.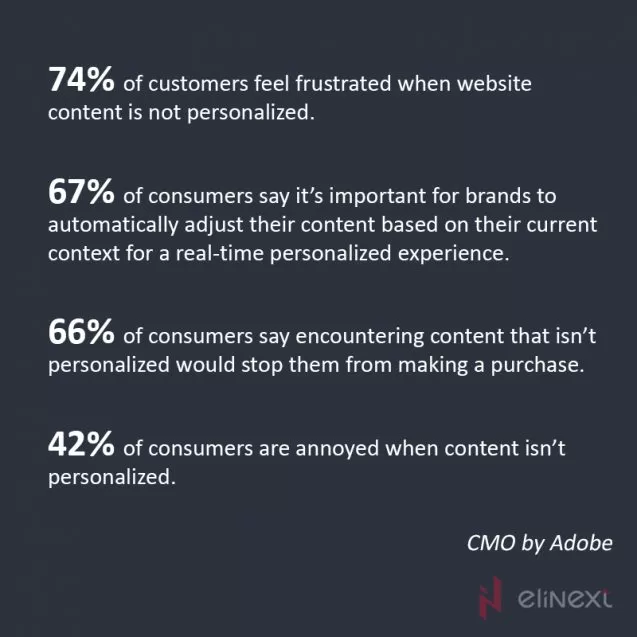 The best solution here is to encourage the client (using special offerings) to fill in a personal account giving there as much demographic and personal data as possible, from date of birth to hobbies.
In 2021, the integration of social media into personal shoppers' accounts can give the marketers a unique chance to follow each customer's update and adjust some offerings. For example, hen party accessories ads if the status was changed to "engaged", or sales on wedding dresses closer to the wedding day.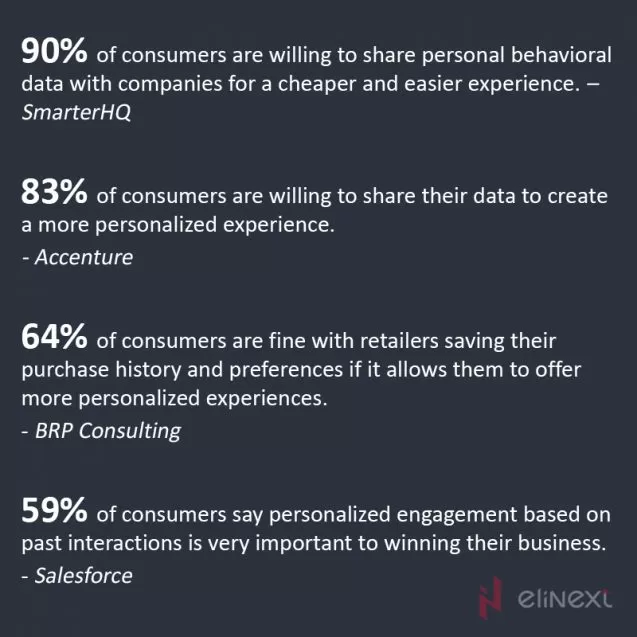 Based on this data as well as on research history you can create smart recommendations for your clients like "other clients buy with it…", "have a look at some options", "see the full product palette from this seller", etc.

Personalized e-mail marketing
Even though more and more unopened emails fly straight to the basket or, what is worse, to spam, e-mail marketing remains a vital part of communication with your customers once they leave the page. Once you have verified the client's e-mail is live and up-to-date, the most obvious tool here is to insert the client's name in appeal in each letter. Images play a big role, too, as they have to be connected to the customer's account, or to his or her shopping experience, etc. And of course, the content should be relevant, no bath duckies' special offers for people with aquaphobia. Trend 2021 – social media email marketing integration.

Personalized sales
Birthday sales, sales as an exchange for a product review or photo, sales for children's costumes close to the beginning of the school year, swimsuits appearing in the feed right before the vacation – the possibilities for personalization and customer engagement are almost endless and are limited by client's wish and law only.

Gosh Save Automation
Hyper-Personalization would turn into Marketer's Hyper-hell without digital automation tools. Just imagine putting the customer's name manually in each letter. This was the sad reality of our predecessors. Now the custom software development reduces all the tasks to several clicks.
Data is collected and analyzed automatically. The integration of client' database and e-mail applications can keep all the clients on track without losing the personal touch. Even clients voice can be estimated and added to the data scope.
Conclusion for the second part
Round a clock and personalized communication exist to attract, keep, engage, and sell. These are the features that content automation and marketing personalization tools can add to your business. In the last article of this series, we will go through the digital trends for B2C salesforces. Stay with us and the duckies.